Jenny Kessler, MOI Director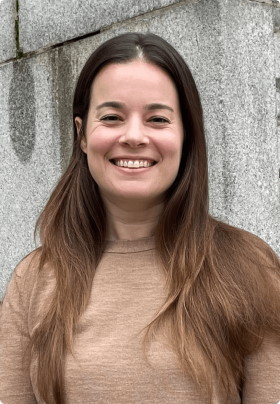 As Director of the Office of Innovation, Ms. Kessler leads strategic engagement with District agencies on the development of priority policies and special initiatives. As Director, Ms. Kessler is responsible for the Bloomberg Philanthropies Innovation Team, which develops modern and advanced solutions for improving the delivery of services to District residents through digital products.
Ms. Kessler joined the Bowser Administration in 2018 and served as an Associate Director in the Mayor's Office of Federal and Regional Affairs. She was responsible for increased Congressional appropriations for vital District-wide programs. Additionally, Ms. Kessler served as the National Service Director, where she oversaw the team responsible for implementing and expanding national service throughout the District.
Before joining the Bowser Administration, Ms. Kessler was the Policy Officer at the Low-Income Fund where she directed a national coalition of industry partners advocating for access to quality early learning and K-12 education. Ms. Kessler's advocacy work on Capitol Hill included building support for healthy food financing and increased funding for affordable housing.
A native of Galveston, Texas, Ms. Kessler earned her undergraduate degree from the University of Texas at Austin and earned her law degree from South Texas College of Law. Ms. Kessler is licensed to practice law in Texas and Washington, DC.
Matt Gerken, Senior Data Scientist
Matt is a researcher and data scientist who is responsible for identifying, collecting, organizing, analyzing, and presenting data relevant to i-team projects. Matt's work includes identifying quantitative indicators to test qualitative findings and hypotheses relevant to the i-team's projects. He develops metrics and measurement systems to determine the impact of projects. Matt is responsible for producing compelling and intuitive data visualizations to drive comprehension of complex topics and concepts across a range of stakeholders.
Before joining the Administration, Matt was a Research Associate at the Urban Institute, a D.C. based nonprofit research organization. His research focused on housing instability, housing assistance, homelessness, and community development. Matt's work included contributing to mixed-methods, formative, and randomized controlled trial evaluations, and leveraged behavioral science principles to help strengthen program delivery. As a member of the Homelessness Practice Area, Matt supported research efforts in using Urban's Emergency Rental Assistance Priority Index to identify neighborhoods at greatest risk of housing instability and homelessness to inform an equitable COVID-19 response.
Prior to Urban, Matt's career included working at Habitat for Humanity, the US Department of Housing and Urban Development, and Thrive DC, a homelessness service organization.
Matt holds an undergraduate degree in mathematics and nonprofit administration from Stetson University and an MPP from Duke University.
Dr. Lindsay Quarles, Project Manager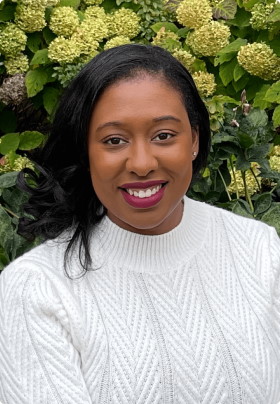 Dr. Quarles is responsible for establishing and maintaining partnerships with internal and external District stakeholders for the Innovation Office. Dr. Quarles collaborates with i-team members and Bloomberg Center for Public Innovation at Johns Hopkins to develop project scope, deliverables, required resources, work plan, budget, and timing for projects. Dr. Quarles monitors the progress of projects to maintain timeliness and communicates progress with the i-team, stakeholders, and project sponsors.
Prior to joining the i-team, Dr. Quarles served as Director of Learning at OneGoal, a national education non-profit. Putting to use her skills as a social scientist, Dr. Quarles aided the national organization in achieving its mission in helping underserved high school students reach their postsecondary goals.
Dr. Quarles began her career working in various positions at the central office of the District of Columbia Public Schools (DCPS), ultimately serving in a research position in the District's Office of the State Superintendent of Education.
A native of Dayton, Ohio, Dr. Quarles earned her undergraduate degree from Ohio State University, and her doctoral degree in Applied Social Psychology from Claremont Graduate University in Claremont, CA. Dr. Quarles is a member of Alpha Kappa Alpha Sorority, Inc.
A volunteer for her daughter's Girl Scout troop, the president of the E.W. Stokes East End Parent Teacher Organization (PTO), Dr. Quarles is a proud wife, mother, and community activist.
Peter Varley, Web Developer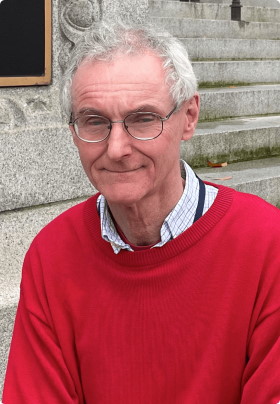 Peter is a trained engineer, and web developer. In his role, Peter is responsible for the maintenance and improvement of the i-team's digital applications. Peter collaborates with i-team members to improve usability of applications. Peter remains up-to-date on emerging technologies and opportunities for innovation across the District Government and on specific projects.
From 2006 through 2019, Peter was a web developer at the The Motley Fool and from 2003 through 2006, he worked as a web developer for Wall Street On Demand building websites for financial services companies. From 2000 to 2003, Peter was a web developer at Premier Data Services. Peter holds a Bachelor of Mechanical Engineering from the University of Sydney, and an associate degree in Web Development from Red Rock Community College.
Marie Lachance, Service Designer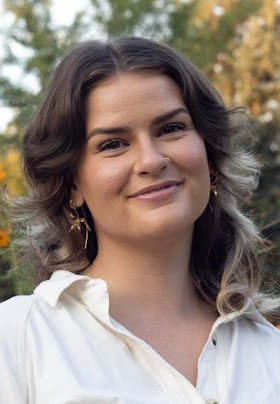 As the i-team's Service Designer, Marie is responsible for embedding human-centered design principles within all projects, and steering the i-team, stakeholders, and project sponsors through these processes. In collaboration with i-team members, she is responsible for designing user journey maps, planning, and executing co-creation workshops with stakeholders, and leading the team through prototyping, testing, and iterating on potential solutions.
Marie, a human-centered designer, researcher, and facilitator, is recognized for her contributions in the realms of Public Policy and Human-Centered Design (HCD). Marie earned her degree in Public Policy from Brown University, launching her on a trajectory marked by innovation, inclusion, and impactful change.
Previously, Marie worked as a human-centered designer, researcher, and facilitator at Deloitte in the Government and Public Sector (GPS) practice. Marie focused her time in the higher-education strategy space, where she led HCD sprints to revolutionize the college application process, centering the experience of underrepresented minority students, and focusing on equity, inclusion, and access. As a designer, Marie highly values stakeholder collaboration, co-creation, and iteration, to solidify client trust and buy-in to key deliverables and insights. Additionally, Marie is a certified Agile Project Manager, and utilizes Agile methodologies to lead her multifunctional teams.
Marie's passion for human-centered design, research, and facilitation led her to serve as a GPS Fellow for the Deloitte Greenhouse, where she designed and delivered immersive strategy and innovation workshops for a diverse client base. At the Greenhouse, Marie used HCD principles to research challenges clients face, diagnose the root of their challenges, and design an immersive, custom, day-long workshop to help leaders work through their challenges. Marie's ability to help senior clients solve pressing challenges at pivotal moments helped expand existing engagements and generate new client work.
Additionally, Marie is an experienced curriculum designer and facilitator. Throughout her time at Deloitte, she designed a novel 18-course HCD curriculum, and facilitated courses to over 400 Deloitte practitioners annually. She is passionate about teaching HCD principles and created a custom HCD course for Greenhouse practitioners to bolster their HCD capabilities, which she facilitated to all 200 Greenhouse employees nation-wide.
Marie is honored to serve for the Bowser Administration. As the i-team's Service Designer, she is eager to further the Administration's commitment to equity, fostering a culture of innovation, and collaborating with District residents to ensure their voices are heard and their needs are met. She hopes her work will help make critical government services more accessible, user friendly, and impactful for all District residents.
Paul Elliott, Community Engagement & Communication Manager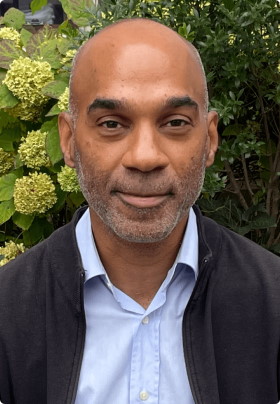 Paul's primary responsibility is to identify and highlight impactful stories, best practices, and innovative solutions, with a specific focus on the progress and accomplishments of the i-team. In addition, Paul is responsible for maintaining effective communication channels between stakeholders and project sponsors.
Since 2016, Paul has served as an external affairs advisor to tech startups, financial services, small businesses, and a coalition of CEOs. Prior to that, from 2008 to 2016, he held the position of principal federal government affairs officer for a North American energy producer and provider, where he successfully designed and executed stakeholder engagement strategies across different U.S. states.
Throughout his career, Paul has held positions such as Press Secretary to New York State's Chief Financial Officer, Media Advisor to former U.S. Senator Hillary Rodham Clinton, Public Affairs Advisor at the U.S. Department of Treasury, Deputy Press Secretary to former New York City Mayor Michael R. Bloomberg, and National Deputy Director of Delegate Selection for the Hillary Clinton 2008 Presidential Campaign.
Originally from Bronx, NY, Paul is an alumnus of Fordham University, where he earned a Bachelor of Arts degree in English Literature.
Robert "JustRo" Stephenson, Artist in Residence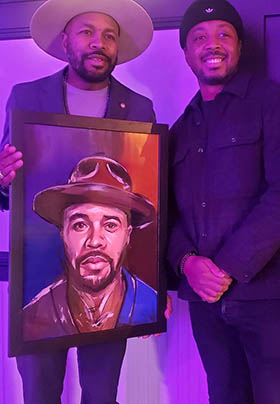 Ro is responsible for helping make art and innovation accessible and compelling to the entire community through activities such as exhibits, open houses, performances, readings, or other cultural interactions open to the general public. Ro is responsible for creatively helping to tell the story of the District's innovation work to the broader community.
He is an immersive visual storyteller and mechanical engineer who utilizes multiple visual mediums to execute his works. Ro explores identity by immersing himself in the people, places, and things along his travels and explorations. The resultant work focuses on illustrating powerful and accessible stories he has gathered along the way.
Ro believes art is an impactful communication tool, and if used unselfishly, art can engage a wide spectrum of community members, increasing the net impact across all groups. Ro is a visual storyteller who engages communities on far reaching topics. Ro's focus is on the relationships between the narrative and creative process.